Sample of Current Opportunities
Solar
Opportunity to:
Sell Loans
Servicing Rights:
Retained
Structures:
Whole Loans, Participations
Trade Consistency:
Consistent Flow, Ad Hoc Trades
Auto
Opportunity to:
Buy Loans
Servicing Rights:
Retained
Structures:
Whole Loans
Trade Consistency:
Consistent Flow, Ad Hoc Trades
Home Equity Closed-End Seconds
Opportunity to:
Sell Loans
Servicing Rights:
Released
Structures:
Whole Loans
Trade Consistency:
Consistent Flow, Ad Hoc Trades
Home Equity Lines of Credit
Opportunity to:
Sell Loans
Servicing Rights:
Released
Structures:
Whole Loans
Trade Consistency:
Consistent Flow, Ad Hoc Trades
Elective Healthcare
Opportunity to:
Buy Loans
Servicing Rights:
Retained
Structures:
Whole Loans
Trade Consistency:
Consistent Flow
Home Equity Closed-End Seconds
Opportunity to:
Sell Loans
Servicing Rights:
Released, Retained
Structures:
Whole Loans
Trade Consistency:
Consistent Flow, Ad Hoc Trades
Nonconforming QM
Opportunity to:
Buy Loans
Servicing Rights:
Released, Retained
Structures:
Whole Loans
Trade Consistency:
Consistent Flow, Ad Hoc Trades
Unsecured
Opportunity to:
Sell Loans
Servicing Rights:
Retained
Structures:
Whole Loans, Participations
Trade Consistency:
Consistent Flow, Ad Hoc Trades
Auto
Opportunity to:
Buy Loans
Servicing Rights:
Retained
Structures:
Whole Loans, Participations
Trade Consistency:
Consistent Flow, Ad Hoc Trades
Jumbo
Opportunity to:
Buy Loans
Servicing Rights:
Released
Structures:
Whole Loans
Trade Consistency:
Consistent Flow
Nonconforming QM
Opportunity to:
Buy Loans
Servicing Rights:
Released
Structures:
Whole Loans
Trade Consistency:
Consistent Flow
Conforming
Opportunity to:
Buy Loans
Servicing Rights:
Released
Structures:
Whole Loans
Trade Consistency:
Consistent Flow
Nonconforming QM
Opportunity to:
Buy Loans
Servicing Rights:
Released, Retained
Structures:
Whole Loans
Trade Consistency:
Consistent Flow, Ad Hoc Trades
Jumbo
Opportunity to:
Buy Loans
Servicing Rights:
Released, Retained
Structures:
Whole Loans
Trade Consistency:
Consistent Flow, Ad Hoc Trades
Home Equity Closed-End Seconds
Opportunity to:
Buy Loans
Servicing Rights:
Released, Retained
Structures:
Whole Loans
Trade Consistency:
Consistent Flow, Ad Hoc Trades
Home Equity Lines of Credit
Opportunity to:
Buy Loans
Servicing Rights:
Released, Retained
Structures:
Whole Loans
Trade Consistency:
Consistent Flow, Ad Hoc Trades
Home Equity Lines of Credit
Opportunity to:
Buy Loans
Servicing Rights:
Retained
Structures:
Whole Loans, Participations
Trade Consistency:
Consistent Flow, Ad Hoc Trades
Auto
Opportunity to:
Sell Loans
Servicing Rights:
Retained
Structures:
Whole Loans
Trade Consistency:
Consistent Flow
Solar
Opportunity to:
Buy Loans
Servicing Rights:
Released, Retained
Structures:
Whole Loans
Trade Consistency:
Consistent Flow
Auto
Opportunity to:
Buy Loans
Servicing Rights:
Retained
Structures:
Whole Loans, Participations
Trade Consistency:
Consistent Flow, Ad Hoc Trades
1
Get Clarity
We ask you a consistent set of high-level questions about which partners and opportunities you'd consider and which ones you wouldn't. This takes about 5-10 minutes for each loan type you're interested in.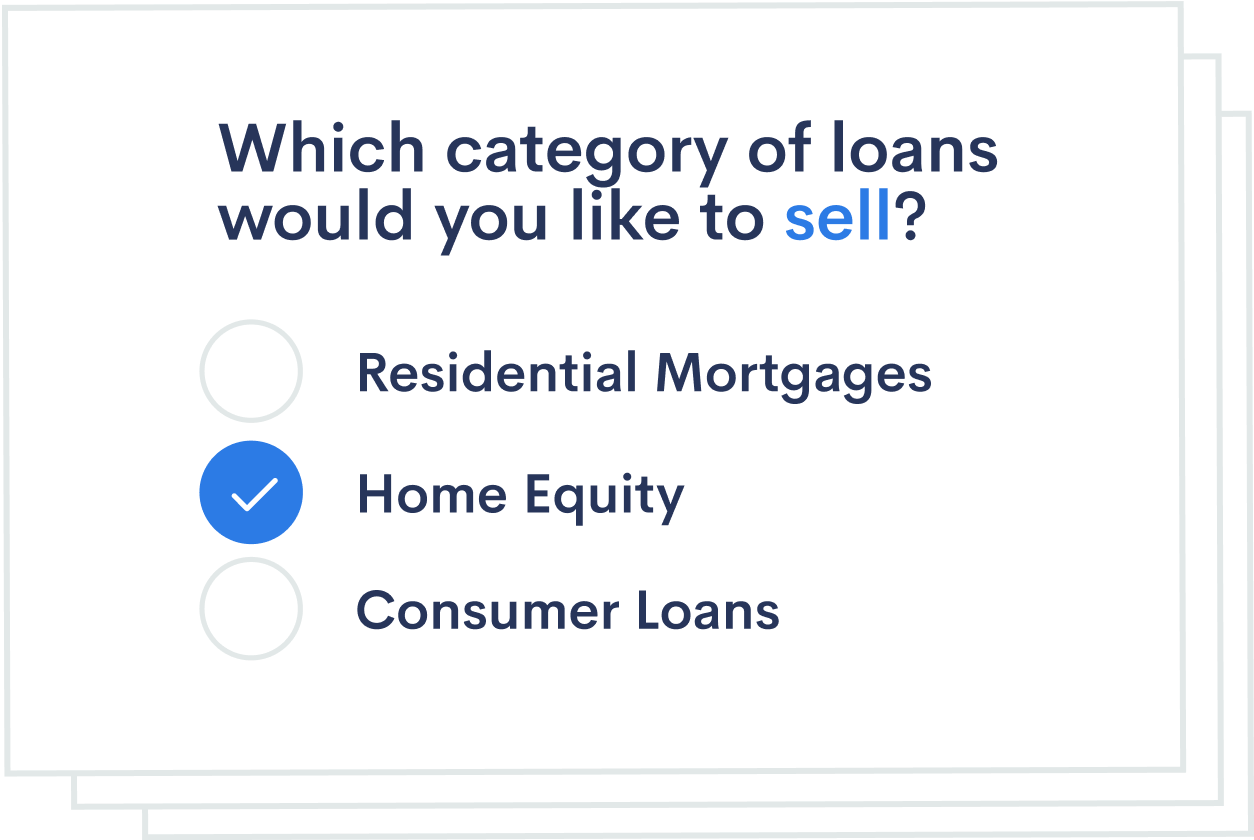 2
Get Matched
We use your responses to source new opportunities and prequalify which ones match your objectives, so you'll waste less time on deals that aren't a fit for pricing, timing, or risk.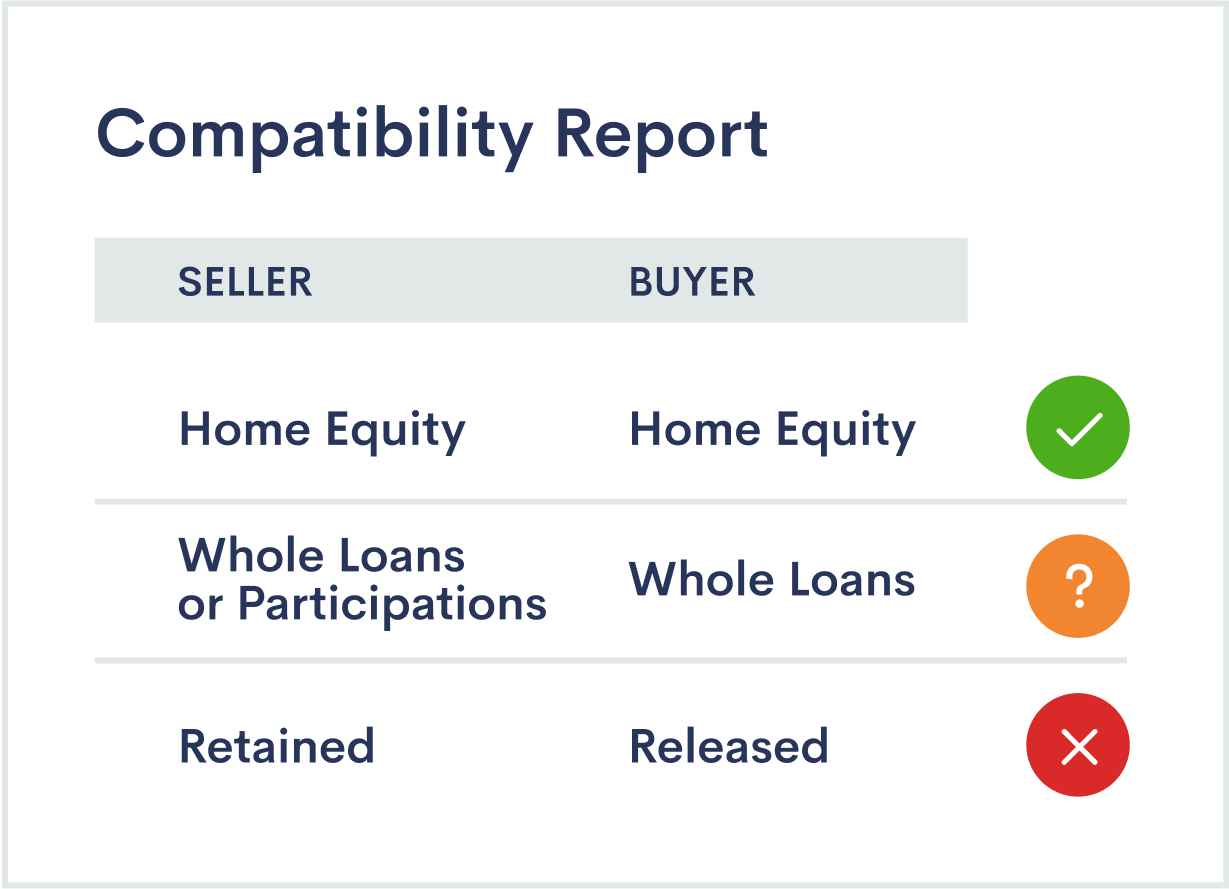 3
Get Introduced
Whenever you're ready we'll introduce you to people with compatible objectives and then we get out of the way. Our success fee is a fraction of what traditional brokers charge.